A free-flowing blog about anime and manga!
WSJ Rants: OP 655-656, N 572-573, B 480, & HxH 334-335
---
I wanted to blog about the
WSJ scanlations
last week (1st week of February), but work constraints held me back. Much to my pleasurable surprise, scanlations were early this week, so why not go ahead and rant about the most recent chapters together now?
OP 656: "Adventure on the Burning Island"
Chapter 655 and 656 of One Piece come together as the beginning of a new arc, the first one in the second half of the Grand Line, the
New World
. After quite an entrance (or exit, since they were under the sea), the Thousand Sunny found itself in raging weather, rolling seas, and even an ocean of flames, much to Luffy's delight. An emergency den-den mushi call (the snail cried… weird) piqued Luffy's interest in the island nearest their current location, a burning island called
Punk Hazard
. After drawing lots to see who disembarks along with an excited Luffy and having the ship stand by outside the circle of burning sea that surrounds Punk Hazard, Luffy, Zoro, Robin, and Ussop head towards the infernal island.
One there, they breach an intimidating wall with the insignia of the marines and the World Government to find what once was a flourishing town or marine base reduced to melting ruin by a constant blaze of fire. Soon enough, they come up against a
dragon
, which Luffy and Zoro, despite some initial surprise and a short exchange of attacks, manage to kill easily.
Oda's imagination takes the wildest turns, and One Piece, his crowning achievement, is a testament to his wild ideas. When the crew was on Fishman Island they met an underling of the
Yonkou Big Mom
– a character that struck me as one of those weird creatures you can only see on One Piece. He was a lion standing upright, wearing a tux and shades – and he transforms into a turtle. Or, at least, his ability allows him to use a turtle shell for defense. In "Adventure in Burning Island," Oda runs away with his imagination again when he decided that Luffy's small party of four should meet with a real, fire-breathing dragon, and that there should be
half a man
stuck on its head.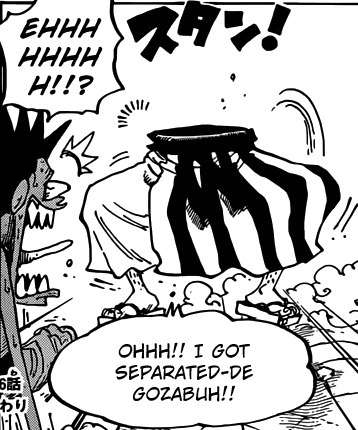 As if that wasn't enough, the half-body could speak, had a will of its own, was also as tall as a normal human, and had a grudge against
Shichibukai
. Meanwhile, the rest of the crew aboard the Sunny-go are put to sleep with sleeping gas by an unknown assailant, and are hauled off to be brought to their attackers' master.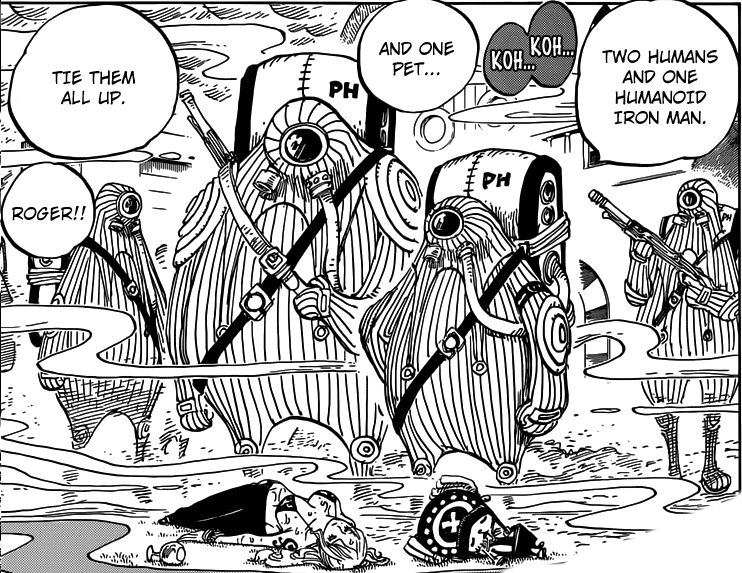 It's Oda's world, so pretty much anything can happen from here on out. Though there are some hints of what might be waiting in the future. Mention of the
samurai
of the
Wa No Kuni
and the appearance of the dragon had me remembering Zoro's
Shuusui
's original owner, the samurai who defeated a dragon hundreds of years ago. Punk Hazard's name plus the construction of its surrounding walls had me thinking about the infamous doctor
Vegapunk
, though I doubt the scientist and the island are connected. The burning island could very well be set ablaze by the dragon Zoro just beheaded, though that is moot. These recent chapters had me thinking about the anime only arc where Luffy helps a little girl's dragon friend, and another one where their flag had been stolen by a flag collector and his eccentric family.
N 573: "The Path Toward Radiance"
Naruto chapters 572 and 573 amounted to Naruto learning the names of the
bijuu
and their
jinchuriki
, the bijuu remembering the
Sage of the Six Path
s and all agreeing that Naruto had been the one the Sage was referring to, Naruto's against the
masked Madara
going smoothly and how everyone in the shinobi army rallied behind his efforts, and
Sasuke
's entrance into the battlefield.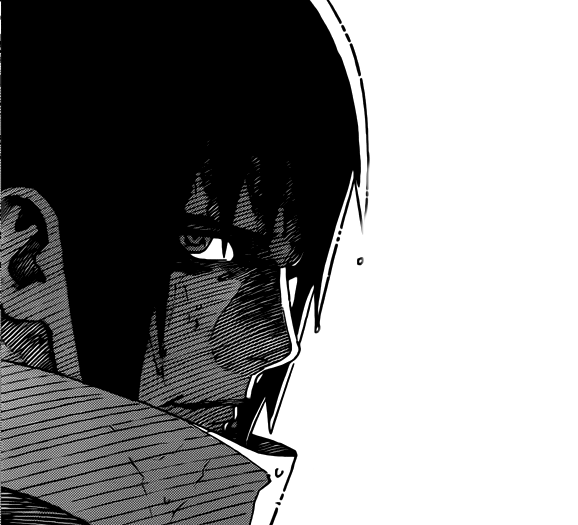 Naruto's chat with the bijuu and jinchuriki was a much wanted comic break in the midst of the fighting. It was neat to see
Kurama
, the kyubi, crack a joke or two.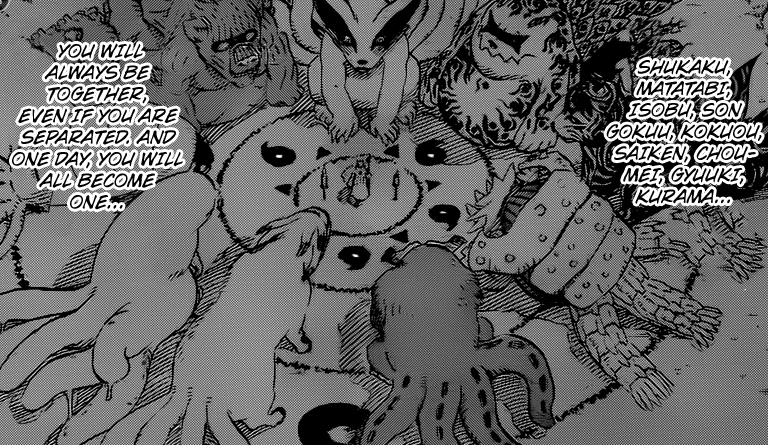 The following chapter which revolved around the Japanese concept of powerful feelings, however, I could do without. It's a cultural facet that is perhaps inevitable, though I would have appreciated it more if it did not take up a whole chapter. Another aspect of current plot developments I'm not so sure of is Sasuke. Given that Naruto is about to become the Sage of the Six Paths incarnate (minus the Rinnegan), just how powerful could Sasuke's eternal Mangekyou be to match up against the mythical ten tails and its host? But alas, I jump too far ahead. In the end Naruto might not end up with all the tailed beasts – in fact the probability of that is close to nil seeing how the eight tails is attached to Bee – but he still has the kyubi, sage mode, and sexy no jutsu. Ok, forget the last technique. But still.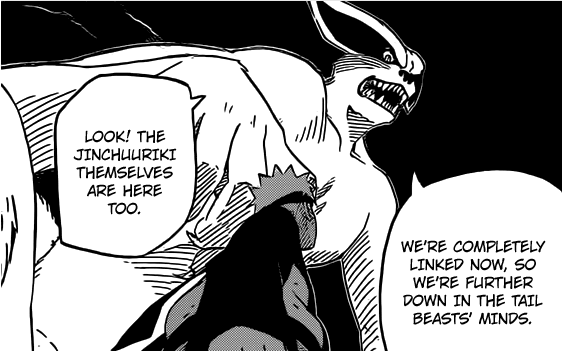 B 480: "The Thousand-Year Blood War"
Bleach is back, and the chapter introducing its final arc piqued my interest as well as my concern. In chapter 480,
two new shinigami
were sent to the hollow infested
Karakura town
to be the official protectors of the very busy sector. They fall prey immediately to powerful-looking hollows, and were saved by
Ichigo
, the shinigami representative they heard about.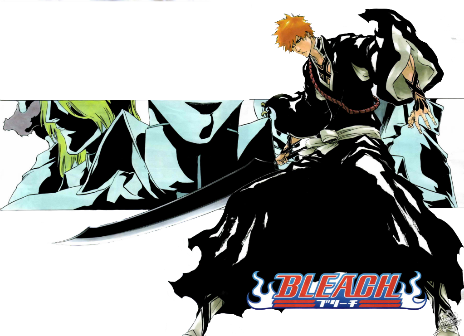 The chapter was interesting because of the shift in POV. It took more time than I would have liked to introduce the new characters and their general personalities, but that's fine.
What concerns me now are the current antagonists. Hinted as being able to "
erase hollows from existence itself
" and probably having had a thousand-year long blood war against shinigami (or perhaps hollow, which makes less sense), they sort of resemble the
quincy
. Especially after seeing the shadowy figure seemingly summon hollows the way
Ishida
did way back in the first few chapters (where
Menos Grande
were still forces to be reckoned with). But I know
Kubo
could not be as plot-wisely uncouth (pardon me for coining new terms) as bringing the quincy back as the final antagonists…or could he be? There are some promising twists one could add to the quincy-shinigami struggle. But still, I would hate for that to happen.
Kubo needs to up the ante again after the
Xcution arc
that felt like an excuse just to bring back Ichigo's powers. Ultimately, though, I dislike this way of going about the plot: introducing something else that could prove to be more powerful than previous antagonists, but were yet unknown and de facto uncaring of previous events in the storyline. Then again, I would really appreciate closure on some facets of the manga that are yet unresolved, such as
where Kurosaki Isshin fits
into the whole shebang, and whether or not the plot goes on to higher planes of existence, namely, the realm of the
King of Soul Society
Aizen badly wanted to meet (and kill).
HxH 335: "Decision"
Hunter X Hunter's most recent chapter was not as climactic as I imagined, though it was well worth the (years long) wait.
The chapter prior, though, was brilliant. In chapter 335,
Gon is back
in action, though not aware of how we got back to normal. He
finally meets Ging
, who he apologizes profusely to regarding the incident with
Kaito
. After some uncharacteristic fatherly advice, Ging sends Gon off to see Kaito but with a little (okay, a lot of) jostling from the rest of the hunter body, was forced to wait for his son to return so they could talk more.
Pariston won
the elections, supported by Gon who did not pick Leorio because the latter wanted to be a doctor (Leorio himself voted for Pariston). After winning, Pariston assigns
Cheadle as vice chairman
and steps down from the seat of executive power, effectively enthroning an infuriated Cheadle. In the last page,
Illumi
arrives in front of the make shift emergency room where Killua awaits him along with a sleeping Alluka.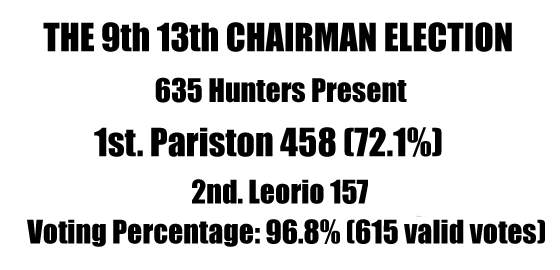 Pariston shows a sincere side on the recent chapter when he and Cheadle talk about Netero, which was sort of fun. The exchange between Gon and Ging was alright, though the comic relief brought by the audience was a bit overboard and
Beelzebubby
. Not that that's bad.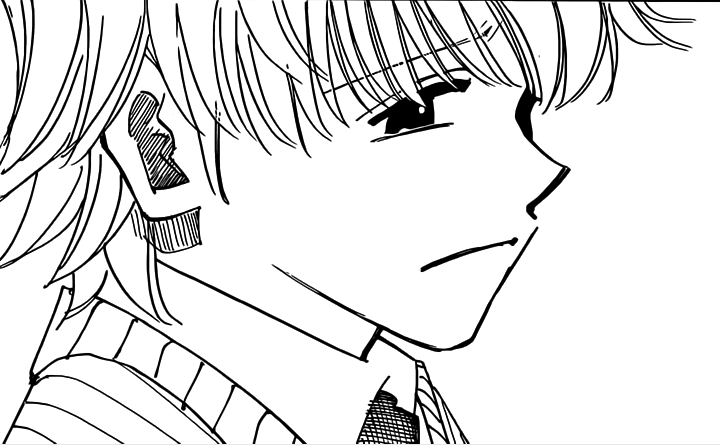 There is not much to say about the recent chapters as they are, like the chapters before them, quite magnificent. Mangaka
Togashi Yashihiro
is making up for his hiatuses, big time. Needless to say, I'll be waiting for the final confrontation between the
Zordyck brothers
in a week's time.
*Sorry for the long rant. Just felt like saying all of these before I fell asleep.*
Purchase the manga volumes as they come out, dammit!

Views
2563
Comments
8
Comments