﹀
〉Memi's blog〈
︿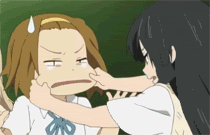 Liars~!!! :O
Posted 10-02-2011 at 09:02 PM by
memica
---
I hate them~! D:
Get a life`! :@
You know I am talking to you! >:Oooo



P.S. to all those who I didn't ask anything about tags , I ask you now ! m.m Make me a tag ~
You don't know what that is? :O Then just check my album Tag : o !

P.P.S. too many of those "!" D::: I know !~ I got used to them too much ;___ ; !
Views
492
Comments
29
Comments