﹀
〉Memi's blog〈
︿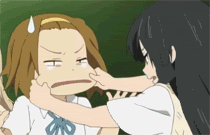 [wat]
Posted 05-08-2012 at 10:19 AM by
memica
---
I died when I saw the familly emotes XDD
Love them m.m

and there is a "more" button too :OOoo
so many things changed D:
Anyway :O I want to say sorry to AC that I wasnt able to come online as much as I used to T__T I am not spamming anymore <///3
Sorry to DC because I dont have time to watch drama on it D:
and manga ? I even forgot what that is T_T sorry paddy
My life is like .. qwoiefj kvsdj ... yep !
Next month I am turning 4 years old on AC :"D getting older ! yay !
Blog makes no sense D: just want to say that I miss you guys

and that you dont even dare to open my chat thread 100 >: (
I hope I will be able to catch up with everything after life stops being akwejfoiawef jkw
Love ya n.n <3
Views
312
Comments
16
Comments